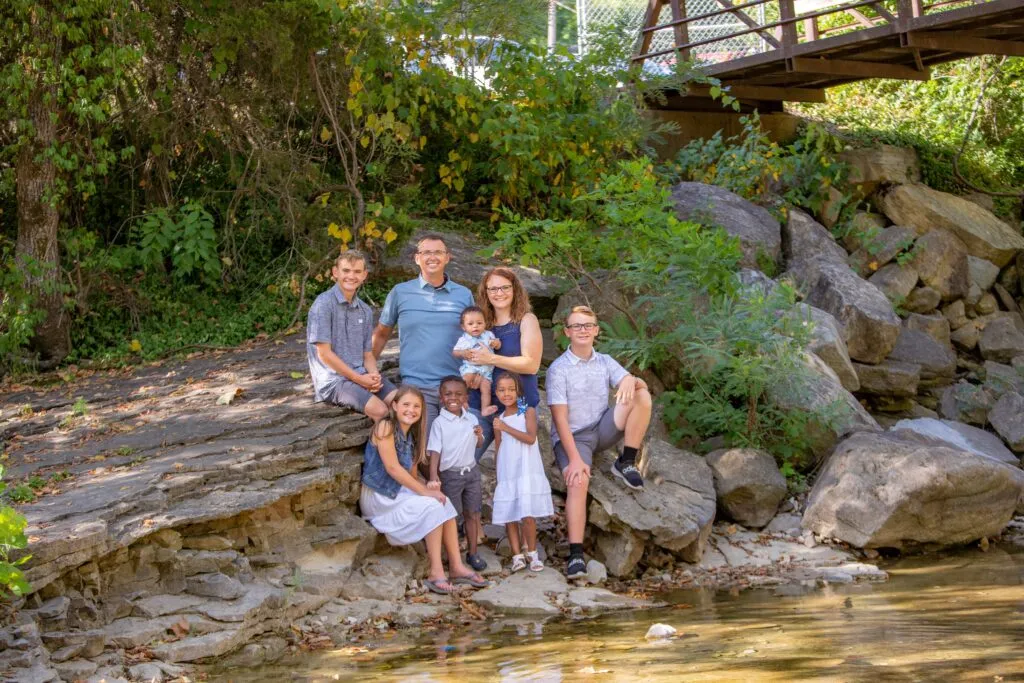 The Beginning
Adopting a child had always been something Brock and Allison were open to. After their three beautiful biological children were born, they started praying about if it might be the time to expand their family through adoption. An agency referral sent them to An Open Door Adoption Agency in Thomasville, GA. They were both agreeable to adopt a child of a different race which was what the agency was seeking at the time. However, being blessed three times was something they never expected.
Two Additions
Several months after applying with An Open Door, they were matched with their daughter "Z." They were all overjoyed with "Z," but kept the door of possibility open to adding another member to their family. It was especially important to them that she have a sibling who looked like her. Brock and Allison began to pray about adopting again and decided to give An Open Door a call. They learned that the agency was in dire need of adoptive families so they, fairly seamlessly, re-entered the program. Not long after, they received a letter from Z's birth mother telling them that she was expecting again. Through a series of events that could have only been ordained by God, they were blessed with her biological brother.
God's Way is not Our Way
Fast forward nearly three years and this family of seven was sure their family was complete. God had other plans! Their family had found themselves in a rather difficult season where Brock was looking for employment. They had finally downsized from all the baby gear. A new member of the family was not on the horizon, especially in their current financial situation. However, everything was about to chagne.
One day, Allison received a phone call from An Open Door. Her heart caught in her throat. It had been years since their last adoption. Why would the agency be calling them now? As it was, the birthmother of their two other adopted children was expecting once more! She was hopeful that Brock and Allison would consider adopting this new addition, as she was not in a position where she felt she could parent.
"We spent a week praying and trying to figure out if we should/could say yes. We knew WE had nowhere near the financial means to pay for an adoption. After much prayer and some counsel from a very trusted mentor, we started moving forward. With what seemed like an unwise earthly decision, 1 Corinthians 3:18a says, 'For the wisdom of this world is folly with God'. But God was in this and he brought us to the verse in Isaiah 55:8 which says, 'For my thoughts are not your thoughts, neither are your ways my ways, declares the Lord.' We knew that if God wanted this baby in our family He would have to provide all the money, because we did NOT have enough!"
Blessed Yet Again…
They began the adoption process rather speedily and soon after, learned about a fundraising organization called Both Hands. The Lord provided above and beyond every states need, just in time for the baby's birth. Through friends and family, they were blessed beyond measure with diapers, bottles, formula, and anything else a new baby might need. In a season where this family was keenly feeling a sense of lack, God brought a harvest and expanded their lineage through the miracle of adoption. Because this little baby's mother chose life once more, her children can experience the gift of family, even so far as being raised with their biological siblings.
But even with this in mind, Allison says, "We are the lucky ones to have them in our family." She says not everyone will be called to adopt, but if you are, she says, "You need to listen and follow God's leading."
"We are very thankful for An Open Door as they desired to keep these siblings together as well. Our family has worked with different social workers each time, but they have all been fantastic. We feel like An Open Door is just an extended part of our family."
Read more blogs like this one!
Loved By Many
Foundation of the World