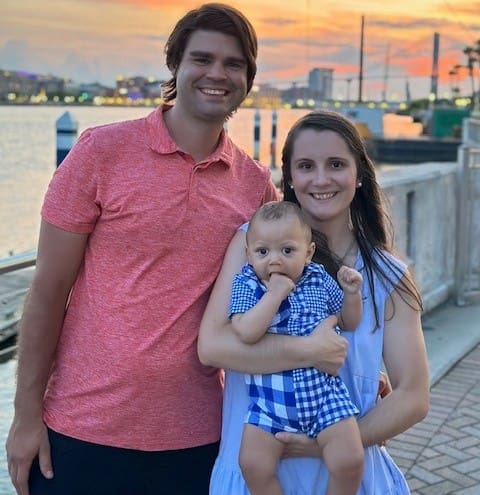 "In April of 2021, Mason and I (Ashlyn) found ourselves taking a big leap of faith, following in faith, and continuously saw the Lord go before us and prepare the way. I am a caseworker for An Open Door and was working a very sensitive case – a little boy we weren't sure how long it would take us to find a family willing to adopt. Mason asked me if we could adopt him. We knew we wanted to adopt one day, but it was going to be another year until we could start the process. By the time we would be able to adopt this little boy, we knew An Open Door would already have a family for him. Mason's response was, "Then I want us to start the process now so when there is a similar situation, they can call us and we will say 'YES!'"
At this time, Mason was in the process of changing jobs and we were waiting to see when that would be so we could start looking for a new home. We were not in a position to start the adoption process, but we both felt the Lord telling us that it was time. The exact day we received the acceptance letter following submission of our application, a job fell into Mason's lap, the job was his at a time he wasn't even looking.
In May, we started house-hunting. If you don't remember what the market was like in the summer of 2021, it was a nightmare to buy a house. As soon as a house went on the market, by the end of the day several offers above asking price were put in. After finding a house and having to pull away from it, we felt like we weren't ever going to find a house…but the Lord went before us. Our realtor knew of someone who just wanted one family to come look at their house, make an offer, and be done with the process of selling. They did not want multiple people coming and going. We were able to buy the house and not fight other bids. It was clear the Lord provided this house for us. Out of the thirty houses we viewed, this truly was the best one.
By February, we were approximately halfway to raising our adoption funds. Around that time, someone reached out to see if their church could do a love offering for our adoption. We went in March thinking we would get a couple thousand dollars from this. They raised over $20,000! We were fully funded in less than a year of starting the process. When I told my coworkers, they all said they had never seen that happen. Again, the Lord went before us and we were simply following Him in faith every step of the way.
In August of 2022, we finally went active! We received a few phone calls that didn't move forward. Until October 28th, 2022, we received the call that there was a little boy and we were the only family open to his situation. We named him Wiley Alexander. Wiley means "resolute protection" and Alexander means "warrior of man." The Lord had protected Wiley in the womb to all he was exposed to. We were in the hospital with him for one month. To this day, I am in awe that he wasn't there longer with more complication than he already had. Mason and I have continuously seen the Lord walk before us as we continue to follow in faith throughout this whole process. When people ask us about our story, we tell them "Buckle up! This story is crazy! But you'll see the Lord's hand in all of it, going before us every step of the way." Adoption isn't easy, but the easiest way to do it is allowing the Lord to go before you and following Him.